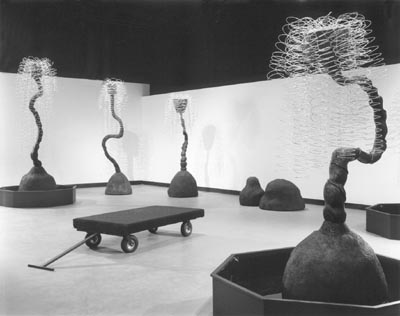 Gurgle, Weep, Flow, 2001. Wood, mortar, steel, and circulating water, 12 x 33 x 58 ft.

The initial impact of Pat Warner's installation Gurgle, Weep, Flow (2001), recently shown at Robert V. Fullerton Art Museum at California State University, San Bernardino, is one of oppositions. The title makes reference to the elemental actions of water in natural surroundings: the "gurgle" of an underground spring, the "weep" or drip of rain from leaves, and the "flow" of water in a meadow stream, though none of these gentle or succoring aspects of water is present in the gallery. Water is, however, an important visual and auditory element of the installation, but it is unnatural water that the viewer sees and hears-water that has been yoked and redirected by humankind for some purpose. This is politically charged water, meant to appear as artificial as it's surroundings. In this form and context, water elicits both a pastoral vision and a looming environmental nightmare.

A harsh environment is presented, populated by black tree trunks and stumps fabricated from steel reinforced mortar and wood, with branches characterized by coiled, galvanized wire. Pumps hidden in the tree bases drive recycled water up into the metal branches. The water falls back into black, octagonal containers. There is high contrast among the lumpy, matte-black trunks and stumps, the rigidly geometric "pools," and the shiny, new-appearing loop curls of silver wire forming the treetops, as well as between the scene itself and it its referent, a forest glade. Form, materials, and spot lighting with its attendant shadows reinforce one another to render the installation dark, hard-edged, industrial-anything but organic. Conceptually, the impression of opposition is bolstered by the reductive, stylized view, and engaged interaction leads viewers toward an enveloping perception of formidable confrontation.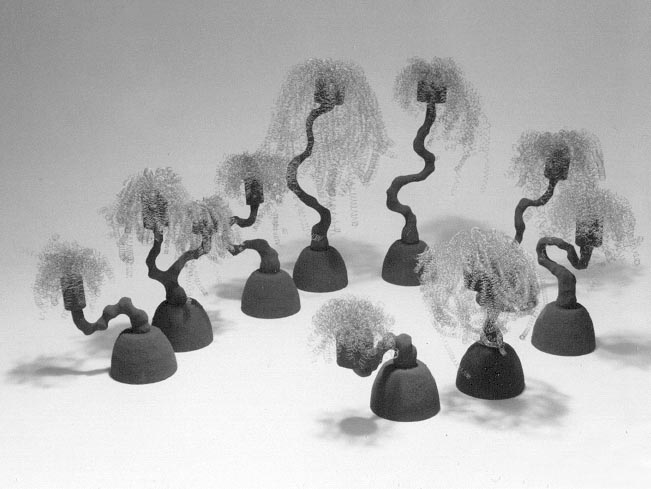 Trees, 2000. Wood, dirt, and wire, 9 pieces, each 20 in. high.
An impression of nature/paradise lost is strengthened rather than relieved by the one spot of color. It is green, but alas, it is the inorganic, plastic green of artificial turf. A flat, four-wheeled, pull cart covered with Astroturf sits oddly within the solemn human-made grove: its brief bit of comic relief soon becomes a troubling recognition that our society might be so tied to the notion of a green lawn that we would exhaust a natural resource and accept a plastic surrogate when the real thing ceased to be available. Indigenous plants in the desert Southwest, including southern California where Warner lives, have proven to be viable, water conserving, and attractive alternatives to lawns, but the majority of home-owners continue to desire a patch of green grass despite the obvious cost to a fragile environment.
This installation departs in some fundamental ways from Warner's previous work. She has always expressed an interest in representing natural phenomenon relative to a human component. However, in works before Gurgle, Weep, Flow, one is only peripherally aware of the negative impact of human manipulation of nature. The tensions between judicious use and destructive greed are sometimes implied but not clearly stated. Warner does not present a romanticized view of either nature or humans in her earlier works, but neither does she present a pragmatic one. In the past, she has made constructions that reference nature with natural materials (most often wood) minimally manipulated to assume interactive, elemental, and stylized architectural forms. For example, Space for Contemplation (2000)is a raised, circular form of rough-cut pine and willow, enclosing a bench, and set in an open field. Viewers are invited to sit within this blind and ponder. The natural materials (no industrial construction supplies such as cement or mortar are included) fit the outdoor site and do not seem to point toward any particular politically charged end result. This is a meditative construct, whereas in Gurgle, Weep, Flow Warner directs viewers toward specific contemplation of the disaster implicit in continued misuse of natural resources.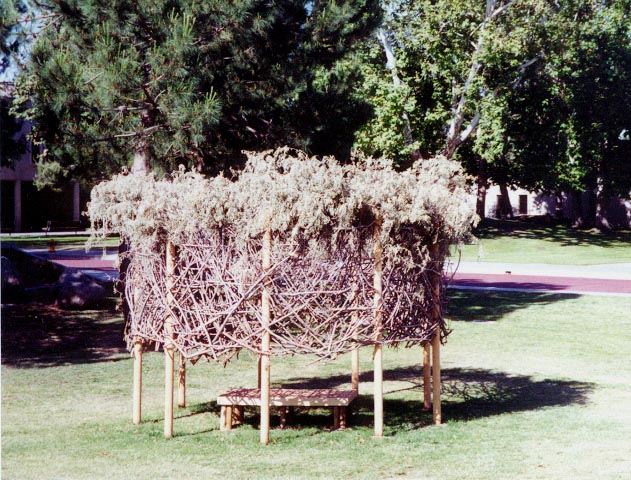 Space for Contemplation, 2000. Pine and willow, 10 x 13 ft. diameter.

This stance seems a natural evolution for an artist who is an astute and concerned observer of the world. Warner's position and affiliations can be attributed in part to her upbringing. She was raised in a southeastern Pennsylvania, Mennonite farming community. The values of her childhood included a respect for hard work, a belief in the efficacy of simplicity, admiration for "straight talk," and a hands-on approach to problem-solving. These attitudes continue to influence the appearance and the message of her sculpture. For example, many of her early works were concerned with dwellings that gradually evolved into complex, metaphorical enclosures. Inspired by visits to archeological digs, these works also rekindled a childhood pleasure in constructing mock habitats or shelters from saplings her father had cleared from his farmland . Warner's ongoing strategy of presenting a detailed context for integral but absent elements began to unfold in the early sculptures. Empty dwellings imply an absent tenant, as in the recent Structures for a Lithuanian Forest (1999), pine and alder teepee-like structures built at Europos Parkas in Vilnius, Lithuania.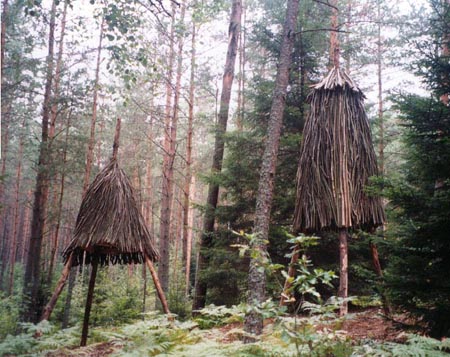 Structures for a Lithuanian Forest, 1999. Pine and alder, 14.75 x 6.25 and 15.5 x 6.25 ft.

Decay is an enriching part of the biological process in a well-balanced environment. Prior to Gurgle, Weep, Flow, Warner more often than not used wood and placed her works outside, knowing they would eventually decompose. She says of Earth Wheel (1990): "When I started this piece, I thought it was about getting resources out of the ground. I soon realized that my thought was giving way to thinking about giving something back. I realized at some point that the object of Earth Wheel was to let the whole thing be taken over by nature, eventually falling back onto itself, the wood decaying and returning nourishment to soil." The foregrounded oppositions and the activist message that make-up Gurgle, Weep, Flow express a similar sentiment by presenting its reverse. Warner has used materials that do not easily break down and return to the soil. She has chosen not to subtly encode her critical concerns in an elegant and temporary sculptural fašade. She has chosen not to assuage her viewers with visual pleasures. The installation permits the nurturing element of an encounter with nature to surface only as a memory-Warner has chosen to "talk straight" and to show us the potential consequences of our actions. Political as is the direct call for change in Gurgle, Weep, Flow, it is at core a work of the heart. Warner is asking for awareness and its conversion to action in the interest of maintaining a healthy natural world.

Charlene Roth is an artist and writer living in Los Angeles.